An article published in the property section of the Galway Advertiser , March 9th 2023.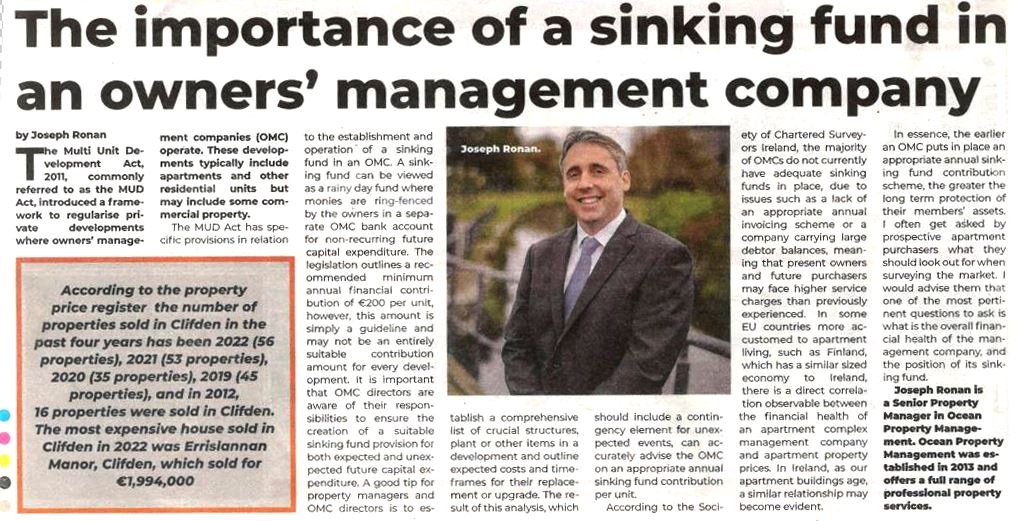 The Multi Unit Development Act, 2011, commonly referred to as the MUD Act, introduced a framework to regularise private developments where Owners' Management Companies (OMC) operate. These developments typically include apartments and other residential units but may include some commercial property.
The MUD Act has specific provisions in relation to the establishment and operation of a sinking fund in an OMC. A sinking fund can be viewed as a rainy day fund where monies are ring-fenced by the owners in a separate OMC bank account for non-recurring future capital expenditure. The legislation outlines a recommended minimum annual financial contribution of €200 per unit, however, this amount is simply a guideline and may not be an entirely suitable contribution amount for every development. It is important that OMC directors are aware of their responsibilities to ensure the creation of a suitable sinking fund provision for both expected and unexpected future capital expenditure. A good tip for property managers and OMC directors is to establish a comprehensive list of crucial structures, plant or other items in a development and outline expected costs and timeframes for their replacement or upgrade. The result of this analysis, which should include a contingency element for unexpected events, can accurately advise the OMC on an appropriate annual sinking fund contribution per unit.
According to the Society of Chartered Surveyors, Ireland the majority of OMCs do not currently have adequate sinking funds in place, due to issues such as a lack of an appropriate annual invoicing scheme or a company carrying large debtor balances, meaning that present owners and future purchasers may face higher service charges than previously experienced. In some EU countries more accustomed to apartment living such as Finland, which has a similar sized economy to Ireland, there is a direct correlation observable between the financial health of an apartment complex management company and apartment property prices. In Ireland as our apartment buildings age a similar relationship may become evident.
In essence, the earlier that an OMC puts in place an appropriate annual sinking fund contribution scheme, the greater the long term protection of their members' assets. I often get asked by prospective apartment purchasers what they should look out for when surveying the market. I would advise them that one of the most pertinent questions to ask is what is the overall financial health of the management company, and the position of its sinking fund.
Joseph Ronan is a Senior Property Manager in Ocean Property Management. Ocean Property Management was established in 2013 and offers a full range of professional property services.